Course
The Race Course
The Insane Run is made of a 3.5km course where runners will face natural and artificial forces of nature.
The race will be held in Vingis Park. The course and event scheme has been officially approved by the Vingis Park Administration and Vilnius City Municipality Administration offices.
Schoolchildren will try 5 Natural Forces in the Insane Run, whilst adults will run through 7 Natural Forces.*
*The organizers reserve the right to change and update the rules.
The Insane run is a distance of 3.5km's.
The start day is on 17th September 2021. It is located at Vingis park in front of the Vingis Park Stage.
The race is not timed. However, the average expected finish time is 30-45mins.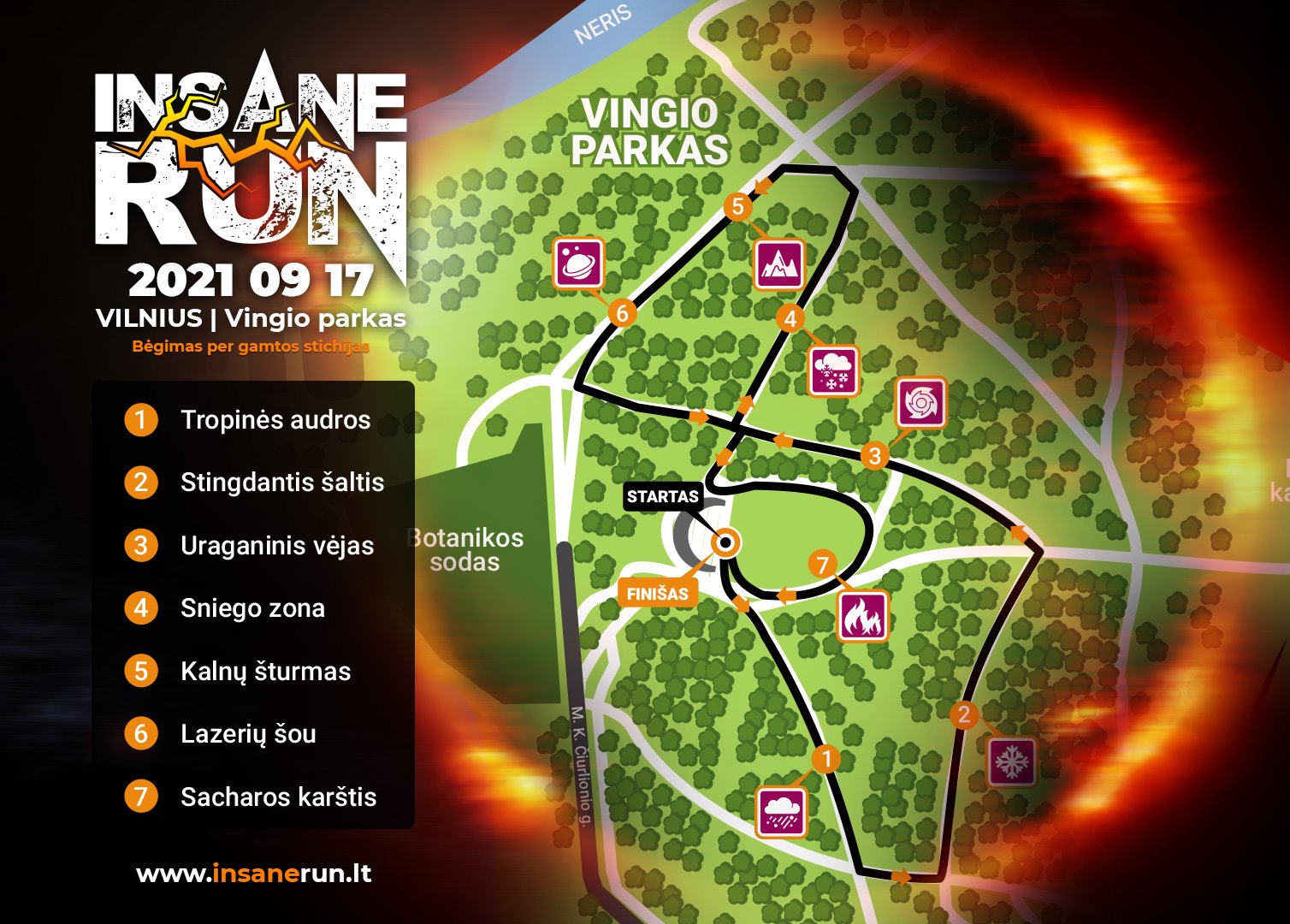 The Tropical Cyclones - this zone won't leave a dry patch on you. Heavy rain with severe thunder and lightning are expected!
The Blood-Freezing Frost - when adrenaline is boiling your blood, you will be cooled down by special cannons that generate a -70C.
Wind Force of Hurricanes - let's see if you can handle 150 km/h of wind - a.k.a. category 1 hurricane!
Snow Zone - embrace the snow during the warm autumn friday, isn't it great?
Mountain Storms - we guarantee that such mountains have not been seen in the Baltic States yet!
The Vastness of Space - a futuristic area where powerful lasers and space decor will blend in with electronic music.
Sahara Heat - or "Hell on Earth" - Have you ever felt the burning heat that made you cover the face? This time the 5-meter-tall poles of fire will be right next to you.